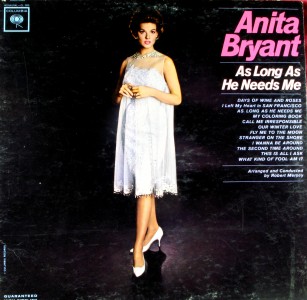 Anita Bryant is heralded as the woman who started the modern crusade to end the war upon America's children. "The battle of parents to protect their children from homosexuality has just begun, for at this moment in the Congress of the United States, 25 misguided congressmen are pushing a bill which would impose on the entire nation the same dangers found in metro Miami's law." Anita Bryant, regarding the move by Miami in 1977 to allow homosexuals to adopt children.
Anita Bryant, a strict Baptist, said a national campaign must be launched "or people across the country will soon have the same problems in their backyards as Miami has now."
"The gay adoption ban is her handiwork," said Eric Ferrero, a spokesman for the ACLU's Lesbian and Gay Rights Project. "Most people still regard her work as really some of the worst homophobia the country has ever seen, and that endures."
Born in Oklahoma some 37 years ago, Bryant calls herself "a deeply religious person whose life revolves around her family and faith in the Lord." She is the mother of four children.  "Homosexuality is immoral and against God's wishes," she says. "Miami's law infringed upon my rights or rather discriminates against me as a citizen and a mother to teach my children and set examples of God's moral code as stated in the Holy Scriptures."
Religion had long been a part of Bryant's life even before she began her campaign. "Ever since I first sang in the choir at my grandparents' church in Tishomingo, Okla., I have wanted to sing and record sacred music," she once said.
Bryant began her career on a talent show at the age of 8 and slowly worked her way into a recording career through her association with the Youth for Christ movement and singing appearances with evangelist Billy Graham. On the way she was crowned Miss Oklahoma and named a runner-up in the Miss America Pageant.
During the height of her career in the 1960s, Bryant became a pop recording star and had three million-sellers— "Paper Roses," " 'Til There Was You," and "My Little Corner of the World." Two religious albums were also best-sellers.
By that time Bryant's image was established. She was the all-American girl. She stood for motherhood, liked apple pie, taught Sunday school, claimed hamburgers and soft drinks were her favorite foods, didn't smoke or drink, and was "proud to be an American—a country where there was freedom and peoples' rights were respected."
Soon she owned a religious recording and publishing company. She went on tour seven times with Bob Hope's Christmas Show. She sang the national anthem at political conventions, held religious concerts, and sang at church conventions and rallies. There were also guest appearances on television shows. In time Bryant was bringing fame to her adopted state of Florida and city of Miami Beach. To show their love and appreciation, along came a $100,000-a-year contract as the spokeswoman for the orange-juice industry. She was voted "Most Admired Woman in America" by Good Housekeeping magazine three years running. She also appeared in ads for Coca-Cola, Kraft Foods, Holiday Inn and Tupperware. She was signed to co-host the Florida Orange Bowl Parade, a major bank hired her to star in its commercials, and other lucrative jobs and appearances followed.
A 1970 survey found that 75 percent of U.S. television viewers knew who she was and what she sold. Struck by her success, then-Gov. Reubin Askew remarked: "People connect orange juice, Florida and Anita Bryant so much that it becomes difficult to decide which to visit, which to listen to and which to squeeze."
Asked once if she considered herself a success, Bryant replied, "I'm still working at it, but I think an abiding love of God has gotten me this far."
"My lifetime dream has been to have my own television series to entertain and present wholesome subjects to my fellow Americans," Bryant told reporters after learning that a proposed show starring her had been canceled because of the controversial nature of her involvement against gay rights.
"I am willing to sacrifice my career and do whatever is necessary to save our children from homosexuality, the recruitment of our children is absolutely necessary for the survival and growth of homosexuality. Since homosexuals cannot reproduce, they must recruit and freshen their ranks. Homosexual acts are not only illegal, they are immoral. Through the power of the ballot box, I believe the parents and the straight-thinking normal majority will soundly reject the attempt to legitimize homosexuals and their recruitment plans for our children. Miami's blundering 'gay' ordinance is no more a civil rights issue than is the arrest of a drunk for disturbing the peace."
In fact this woman did sacrifice everything to protect America's children. She received death threats, but wouldn't back down.  She was told to stop speaking out against "gay rights" or else her million dollar spokeswoman contracts for several companies would be cancelled. She didn't stop speaking out and her contracts were cancelled. Today, she is a grandmother who lives a quiet life. She is still vilified in the press and homosexual groups and their magazines and websites continually make fun of her. Even church groups and organizations around the country turned their back to her when the heat got too hot. However, she has had the Lord to rely on and he has seen her through. And when she meets her maker he will say, "Well done my child".